Imagine a collectivity with the capacity to precipitate a more symbiotic urban landscape
Dear creatures, there are four ideas that I would like to transmit to the future practitioners in practice for the care and preservation of the commons. In the book, Lo—TEK, Julia Watson talks about it in a direct quote to anthropologist Siegfried Beckus to address the emergence of the exemplary landscapes through the sustained and beneficial interaction of communities with the environment, that can be summed up in four qualities. The first is the comprehensive knowledge of plants, animals, soils and landscapes by the communities involved. The second, the management of resources through accessible practice, tools and technology to foster diversity rather than deplete it and creatively deeply interrelated these resources. The third is the emergence of singular governance institutions, flexible and distributed to enable the system self-correction. And the fourth is the emergence of artistic manifestations, ceremonies, rituals that transmit and actualize these links in the community. Considering the capacity of these collectives to interweave apparently unlike resources into driving ecosystems, we could venture that the scarcity or abundance of the reality, also the bond on our capacity to establish creative and sustainable relationships with presences that are not always completely contemplated visually. Through the cultural program of Seville, 'Luces de Barrio', we will launch a joint proposal 'Gardens in the Air' in Los Pajaritos neighborhood, where designers, landscape architects, performers, musician, composers, voices and writers work together with young people of the Candelaria community to improve the neighborhood by lighting its resources. It was formalized in three works—and more. But we talk about three: a device that recycles the water discarded by air conditioners to cultivate a new ecosystem for plants, birds and humans in a vertical garden; a singular perfume with the remains of the pruning of aromatic spices around, and a vocal concert to transmit the learning through a ceremony in the public space. From this process, imagine a collectivity with the capacity to precipitate a more symbiotic urban landscape through the gradual alignment of more seen, situated and sustainable knowledge, practices, institutions and cultural expression. Thank you so much.
Learn to listen and remove your ego
I think the biggest learning—there are many, many—but perhaps the main one is learning how to listen from the beginning and remove your ego. And I think this is the most satisfying part of the whole process, not only for teamwork, but in general for all of us on a personal level. I think that this can be the most rewarding message and that it would take away a lot of exhaustion from work. We are very prone to enter unknown and quite complex gardens. I think this happens to all of us, that we don't realize it, but our egos sometimes destroy ourselves and the ecosystems.
Either we solve urban problems together or we won't be able to do anything
Either we solve urban problems together or each of us will not be able to do anything: we will continue to breathe the air we breathe, and we will see what water we are going to drink. That is to say, that this is a community problem, of urban societies mainly, and that we have to solve it together.
To speak with data to corroborate intuitions
For us, working with data also comes from the most technical part. Suddenly, being able to know how much CO2 exists is the most scientific part, but it is a look that helps us to speak with data to corroborate intuitions that we have. For that, the archive is always necessary, the capture of data. The more data we have, the better. Always try, always get as much data and of all types.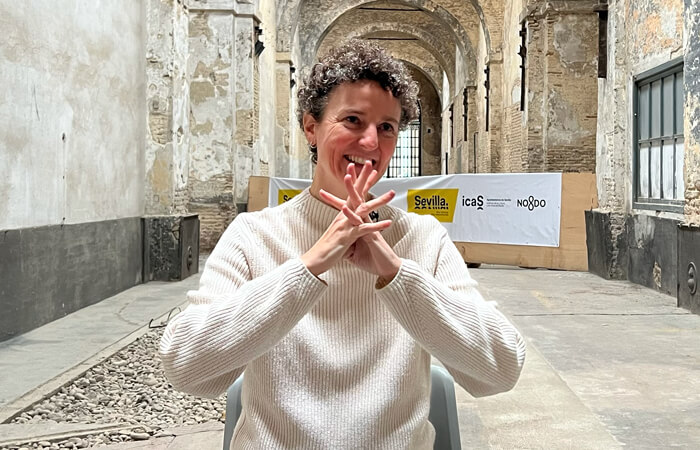 Founder of Nomad Garden and Architect by ETSAS, she specializes in urban planning and landscape in the city of Paris and in urban ecology at the Urban Ecology Agency of Barcelona. Master in Sustainable City and Architecture from the U.S with research on Urban Sustainability Indicators. It has been awarded in international competitions such as the ACXT call for young architects in the 2008 edition or the Dragados PFC 2006 award. Gardens in the Air is a circular initiative of urban renaturalisation started in 2020 in the humble neighbourhood Tres Barrios-Amate, in Seville (Spain) that materializes in three interconnected works matured over a year of workshops, meetings and shared celebrations, with the aim of exploring the resources and species of the neighborhood to imagine new relationships that allow them to thrive in balance, generating a more sustainable habitat.
CreaTures resources
Pirici, A. (2022). Entanglement [Festival keynote]. CreaTures Festival, Sevilla, Spain.
Petroiusti, L. (2022). How do we encounter climate breakdown? How do we negotiate the impossibly complex? [Festival keynote]. CreaTures Festival, Sevilla, Spain.
Mitro, M. (2022) Open Urban Forest [Festival Pechakucha presentation]. CreaTures Festival, Sevilla, Spain.
Gemma Lawrence and Emma Hall (2022). Transforming Futures through Place-based Creative Practices: How eco-social change can be fostered in place. Report by Creative Carbon Scotland, commissioned by CreaTures.
Light, A. (2022). On Participative Intimacies and Other Invisible Achievements. Keynote at Participatory Design Conference 2022. Newcastle, UK.
Choi, J. H-j. & Feral Drifters @ Care-full Design Lab (2021). More-than-Human Dérive – Uroboros Edition [Festival presentation]. Uroboros 2021 festival.
Wilde, D.*, Dolejšová, M.*, van Gaalen, S., Altarriba Bertran, F., Davis, H. & Raven, P.G. (2021). Troubling the Impact of Food Future Imaginaries. Proceedings of the 2021 Nordic Design Research Conference (NORDES). Proceedings of the 2021 Nordic Design Research Conference, No 9 (2021): NORDES 2021: MATTERS OF SCALE, ISSN 1604-9705, pp.115-124. *co-first authors.
Dolejšová, M., Gaalen van S., Wilde, D., Davis, H. & Altarriba Bertran, F. (2021). More-than-Human Food Futures Cookbook. RRI Tools collection.