Let's see us more in the eyes
I didn't use words, as you can see. Because when I was asked to write something for the future, the first question that came to me was: Will future consciousness or generation or civilizations understand English written words? So I decided to go with an image, which is something to transcend languages, to transcend identities or transcend boundaries; something that is really close to me and to my practice. So I decided to create these beings, getting in touch or getting connected with energies or being together, focusing on one seed or getting dissolved or flowing in coherence or getting dissolved into liquid, into something that is kind or comfortable. And I also draw two eyes looking at each other because I think it's something that I will send to the future. It's like saying let's see us more in the eyes and let's see what's inside of this person that is in front of you. And why not listen more and listen with the eyes and I mean—it's like, let's go there. So this is my message that in another comes from a meditation I did to get to draw this. And I was focused on receiving a message from the future, so I was trying to focus on getting a connection or a container to receive one message from the future, to send it back again to the future. Playing with time and playing with bending all these realities that will transcend.
I take what I need, not more, not less
The most important thing of nature is that I'm here, I do my stuff. So I respect other beings, but I do what I need to do. And I take what I need, not more, not less, not more of what I need. And it's not candescent, nature does what it needs to do no matter what happens. If I need to destroy another tree to grow myself, I will do it. But it's part of the balance. Now I know that I get connected with nature because it helps me a lot to understand myself as an artist, as a person, and my role here.
Take your shit and face it
I try to be less productive now and to be slower on my practice and my creations. And now I know this because … I needed to pass [the period of] acceleration [like] machine engines, working and doing this faster and to make money or to wherever it needed to develop myself. So the advice is, yeah, you needed to experience this. I don't want to give advice to change what I experience because I needed it. So read it, this is just really happening and try to understand, don't throw it on the on the garbage, man. It's like take your shit and face it, and then this transcending things will happen.
Art needs to be close to life
It was not easy to find the plants that we grow in this sphere, but we found what we needed and we spent like three days eating and working in the city with bikes. So it was so beautiful and something that is really beautiful for me is that art needs to be close to life. If it's not like this, I'm not interested in it. I mean, they both work together and happen at the same time. If art needs to displace life, to put life aside, I'm out.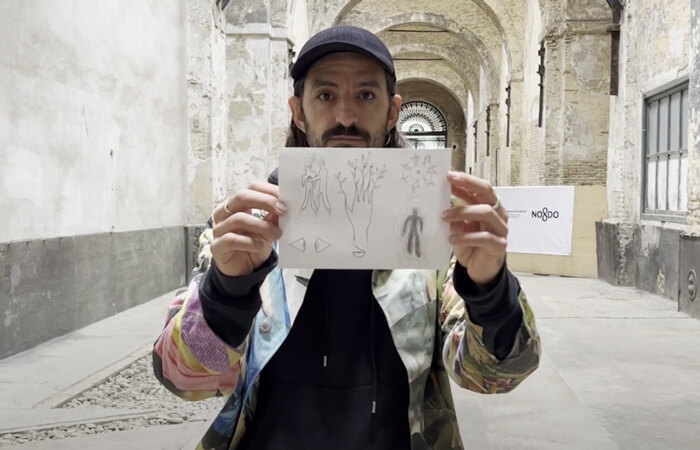 Performer, artist and craftsman, Roberto is mainly influenced by human interactions, movement, handcraft & nature. He pursues a multi-dimensional art approach with a very close bond with Nature's elemental dynamics, combining dance, healing practices, drawing, painting, art installation, poetry and textile. Since 2007 he creates different dance performances exploring his own autobiography constructing his private mythology.
CreaTures resources
Pirici, A. (2022). Entanglement [Festival keynote]. CreaTures Festival, Sevilla, Spain.
Knopp, T., Debevec, E. & Ambrožič, N. (2022) MyCoBiont [Festival Pechakucha presentation]. CreaTures Festival, Sevilla, Spain.
Light, A. (2022). On Participative Intimacies and Other Invisible Achievements. Keynote at Participatory Design Conference 2022. Newcastle, UK
Jain, A. and Ardern, J. (2021). We are more than human [Manifesto presentation). Dezeen Digital Festival 2021.
Jain, A., Spačal, S., Planišček, A. Petrič, Š., Peirano, M. (2021). (re)programming: Interdependence – Post-Human Politics [Discussion]. Aksioma – (re)programming: Strategies for Self-renewal.