Community is stronger than culture
Dear creative practitioner. Remember, the brain is part of the body. And the body is a constantly moving universe. Imagine an ocean. Admire its beauty. Check once in a while what ecosystems you create. Allow yourself to remember. Remembering is good for the future. Remember, that community is real much faster and stronger than culture. Remember to dwell. Eat and stay with others. Nothing can break bonds of respect and care. Be kind. Stay honest. Resist. Always ask questions when your guts tell you to do so. And if you cannot do it, find a safer place. Join squatting. Never lose the ability to fully squat. Might seem petty, but it is very important. It's about grounding, connection, expanding, and rooting. Big knowledge of presence. And love. Love is the best healer. Best healer is love.
My message for the future creative practitioner is very much connected with the work of the body and keeping the practice and awareness of it. I believe that treating yourself and understanding yourself as a full universe, the whole story brings integrity into a scope, which is absolutely the first and the most important thing to be with others, to be social. It's been a long journey for me, understanding how to be with humans for many years. It was much easier to be different species, but in the end, I believe staying together in a sustainable way is really the beginning of the real story. Please work with your memory. Never disconnect the brain and mind from it. These are all the elements that cooperate. And remembering is also imagining this vision. It's allowing yourself to create. So this too has to be in constant balance and dialogue. I believe if you keep this too close and in movement, you can really do a lot.
What gets people to be involved is that people actually want to help
…the most important part is to really understand or to really admit that we actually need help. You know, for many people, it's very hard to admit this thing. And it's a big step to actually, you know, react to a sort of call of an experiment of collective care. You know, it's like if you enter the space, you actually search for some solution. And that's super important. It's not for everyone. Not everyone would respond to such a call. But these people who join Domain and become a community domain community, they are seeking for something they seek for a solution, and they need others to overcome their obstacles. And this is really something that we have in common. So, you know, there are many people in many crises coming needing help. There are many people struggling with, for instance, place to store their work or even a place to sleep or, you know, all sorts of different crises appear in this place. And, you know, when I was doing this View from the Window project, my basic intuition was that actually our condition as artists. Youngsters, I don't know, or activists like precarious beings, nomads and so on, is so similar, for instance, to our neighbors' experience who are also in some ways, different, but neglected throughout the police transformation history, the growth of capitalism and, you know, different things that we can actually cooperate on. And what glues us together is actually allowing ourselves to be taken care of, you know?
A practice of becoming part of a community, learning how to belong, how to feel good with it
So it's a very similar concept in a way of finding my way home. And I never considered my home like an alienated, closed space. It was more like a home feeling, you know, being with people, feeling safe around them, willing to share things together and understand each other. So it's really a practice of becoming part of a community, learning how to belong, how to feel good with it, something like that. And giving a lot of support. You know, I have an experience of incredible loneliness. I think that the nineties in Poland, very formative years for me, were super harsh and super difficult times to grow up in. And I felt lonely and like fighting for things many times and. The support I somehow needed was for many years not given to me. I had to escape. I had to, you know, travel. I had to start again completely new lives, like somehow, you know, start again and again…
You can never do it alone. It's impossible
I think it took me a long time to understand what is important, really important, and what has to be done, but is not that important. And to understand that and really focus on the important stuff and find a way to express it, how to somehow don't fool yourself, but go straight to the point you really need is a very important thing to learn, in my opinion. And you can never do it alone. It's impossible. It comes in the form of mutual knowledge. You hear something, you do something. Then you reflect. You have to confront yourself constantly. And for these, you need a group. So my other advice would be. To find calmness and safety in being with people. Yeah. I think this is important. Before I would escape into interspecies relationships. For some people, they might seem extravagant. Or maybe a little bit difficult. But for me, it was the opposite. I felt much better in nature. I worked with a herd of cows. I work with fishes. I worked with different turtles, different animals and plants as well. And today I understand that it was also my way to escape the human world because it seemed terrifying. It seemed too difficult. And it maybe felt even violent a little bit too much. So I couldn't handle it. But today, I understand that it's very important to feel safe and good among humans, that this is actually the very starting point. And then you just feel cosmic, you know, like connected to everything and everyone. And that's a big knowledge. I recommend it to everyone.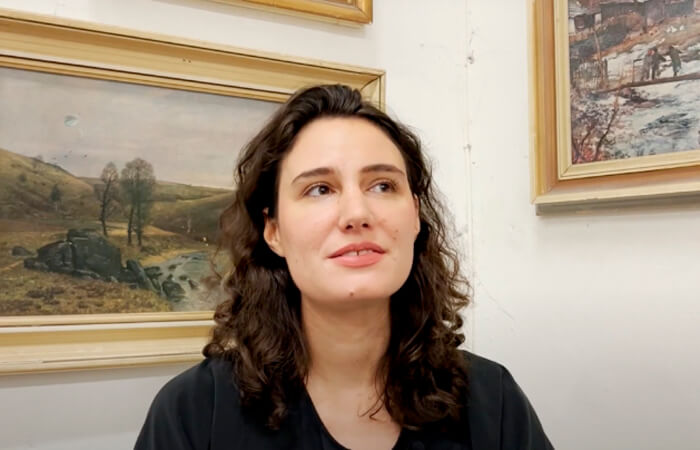 Martyna Miller is an interdisciplinary artist, director and anthropologist, who has received her doctorate in fine arts (with distinction) at the University of Arts in Poznań. She is co-founder of duo Polanki and TYNA collective. Since 2018 she has been co-running the DOMIE project in Poznań, an experimental endeavor on the border of art, architecture and social sciences. She is interested in the relationship between nature and community in the processes of healing, production and transformation. Her projects are long term investigations, gathering different groups and perspectives to search for collectively developed knowledges and experience communities. She uses video, performance, sound and more. She is a recipient of the Minister of Culture and National Heritage Scholarship (2014), a recipient of the SIGMA Scholarship (2013-2015) and the TOKAS residency in Tokyo (2020).
CreaTures resources
Jain, A. (2022). You can only be the Revolution. [Keynote]. Royal Botanic Garden Edinburgh, April 2022
Choi, J. H-j., Botero, A., Ampatzidou, C., Beavers I., Dolejšová, M., Jain, A. & Lohmann, J. (2021). Re-membering with Fantastic Creatures. [Conference presentation]. Eco-creativity: Art, Music, Ritual and Global Climate Politics. 19 Nov 2021, Milton Keynes, UK.
Jain, A. and Ardern, J. (2021). We are more than human [Manifesto presentation). Dezeen Digital Festival 2021.
Jain, A. (2021). Developing the Vision of the Bauhaus of the Seas 4: Renewing Practices. [Panel discussion]. Bauhaus of the Seas International Conference, Venice.
Botero, A., Choi, J. H-j., Jain, A., Lapin, K., Sharma, S., Pineros, N., Lintunen, A. & Catlow, R. (2021). What is a forest? When is a forest? [Panel discussion]. Vienna Biennale for Change 2021.
Jain, A., Spačal, S., Planišček, A. Petrič, Š., Peirano, M. (2021). (re)programming: Interdependence – Post-Human Politics [Discussion]. Aksioma – (re)programming: Strategies for Self-renewal.
Jain. A., Obrist H.U., Formafantasma, Diawara, M. (2021). Retracing the Roots – Anab Jain in conversation with Hans Ulrich Obrist, Formafantasma and Manthia Diawara. [Panel discussion]. Serpentine Gallery
Jain, A. (2020). Toward More-Than-Human Futures: Superflux [Conference keynote]. Node20 Forum for Digital Arts.
Jain, A. (2020). Sentient Forests [Symposium presentation]. European Forum Alpbach – Technology Symposium.
Jain, A. (2020). Becoming Unstable [Festival talk]. Fiber festival 2020.
Jain, A. (2020). Into the Wild [Keynote] University of the Arts London LCC Staff Conference.