Today we start the legume revolution
Dear brothers and sisters, I heard you love pasta. I was told you love it. With tomato sauce, "a la carbonara", with pesto. Sometimes you're lucky and your partner cooks it with seafood for you. I saw you with your friends at a restaurant the other night and asked the waiter for more parmigiano for your pasta. One night you babysat your nephews and you thought the best and easiest meal for those kids was pasta. Kids love pasta. Some of them just eat pasta. Dear brothers and sisters, it's about time to shoot down the empire of pasta. It's time to start thinking and looking at legumes. It is a political decision we have to undertake right now for the planet, for our health, and for our own happiness. Plant legumes. Legumes fix the atmospheric nitrogen, releasing the soil, high quality organic matter, and facilitate soil nutrients, circulation and water retention. Peas, garbanzos, lentils, all kinds of beans. They are all much better for you and for the planet. We have been domesticated by wheat for the last 12,000 years. Tired of that? Today we start the legume revolution. Córdoba, Spain, Fall 2022. And the journey starts now. Salut.
I've been inspired to write this message because recently we've been challenging the official way of educating people in values of the Mediterranean diet. You go to school and their teachers sort of make the kids believe that they are having a good diet, a good Mediterranean diet. Like if that's going to be helpful. Good for them for the rest of their life. But when you get deeper into what's happening with diet here in the Mediterranean context, we have suffered pretty much the empire of pasta. And flour has eliminated the rest of our variety of main ingredients that we need for surviving. So that also has a political way of looking at the present in terms of the Ukrainian war. There is a lot of grain and a lot of wheat in Ukraine that is just there, blocked by the Russians. And that made us confused about what's happening, especially in the spring. There is no way that we are facing the future as a self-sufficient community. So the most radical way of thinking about our diet and about our agriculture for the future in terms of sustainability is recuperating legumes for our diet that was always the base for our diet. The Mediterranean diet was always based on legumes, not just on pasta. And that was the idea behind it.
When you don't have the money, you have friends that can help you with all their knowledge
If you need to build a cabin and you don't have the money but you have friends that can help you with all their knowledge, with all the tools at the end, that cabin is going to be cheaper, is going to be much more beautiful and it's also a learning process. So that was very important… Recently we were lucky to get a couple of good, decent grants that are supporting our practice in a very generous way. So for the last two years, we are looking at the city more like a place for finding relationships or meeting people with similar values and radical ways of putting sustainability in the book.
Farming is a possibility. It's a beautiful job
Why is it not possible for kids and teenagers to become farmers? Why? It's like you're not smart enough to go to a school or to university, so you're going to end up working in the field, harvesting grapes. We're trying to shake that out. We are trying to show from the very beginning that farming is a possibility. It's a beautiful job. And also, it's a way of connecting yourself to a community of beautiful people. And what else?
Life is a question of getting involved with the right community, with the right people
We have the capacity of learning so many different things in our lives. It's a question of meeting and getting involved with the right community, with the right people. But the problem is that so often most of the members of a community don't even think about that positive possibility of learning. So we have to create those learning contexts. We have to spend more time with the community, learning how to solve problems, learning how to plant, and learning how to make a bottle. I mean, this is not that complicated. You can make a bottle. I make wine myself. I don't need a big infrastructure for making wine. But ten years ago, that was not a possibility for me because I thought this must be really hard. Things at the end are much more simple. And that's why I have hope.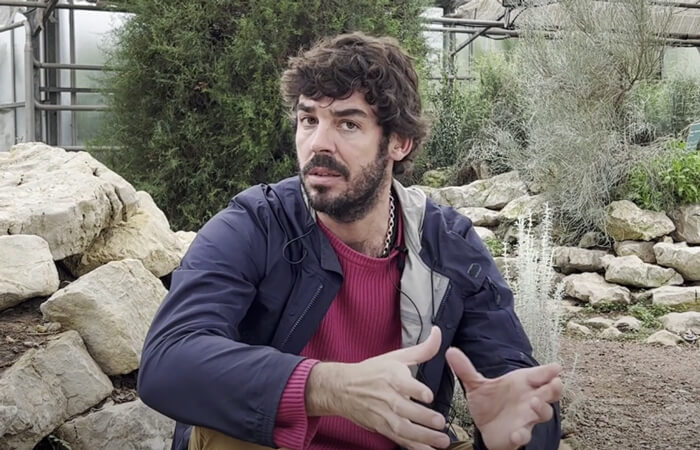 Plata is a project founded in Córdoba in 2021 by the association LaFragua. With more than 60 members, it is led by Javier Orcaray, Gabrielle Mangeri and Jesús Alcaide. This is the third project of these characteristics founded by the association, preceded by La Fragua Artist Residency (2010-2016) and CoMbO (2014-2016). Plata is a place under construction where a common living together and the common is organised. A place where the community is invited to propose lines of creation, thought, action and research. Most of its projects have an impact on the improvement of both rural and urban contexts, working on issues of ecology, sustainability and equality and offering new visions of contemporary cultural production and alternatives for critical and creative thinking.
CreaTures resources
Light, A. (2022). On Participative Intimacies and Other Invisible Achievements. Keynote at Participatory Design Conference 2022. Newcastle, UK.
Dolejšová, M., Ampatzidou, C., Choi, J. H-j., Botero, A., Beavers, I., Pokrywka, A., Van Amstel, F., Satomi, M. & Perner-Wilson, H. (2021). Feral Creative Practices Panel [Panel discussion]. Uroboros 2021 festival.
Gil, Felipe G. (2020). Citizenry and Culture [Symposium presentation]. Cultura y Ciudadanía, Ministry of Culture of Spain.
Ampatzidou, C., Dolejšová, M., Choi, J. H-j. and Botero, A. (2022). Feral Ways Of Knowing And Doing: Tools And Resources For Transformational Creative Practice. In Proceedings of the 2021 Pivot Conference: Dismantling Reassembling – Tools for Alternative Futures. OCAD University, July 22-23, 2021. DOI: https://doi.org/10.21606/pluriversal.2021.0016
Dolejšová, M., Gaalen van S., Wilde, D., Davis, H. & Altarriba Bertran, F. (2021). More-than-Human Food Futures Cookbook. RRI Tools collection.